Why High Availability is important?
  As E-commerce and E-business become more and more popular in the world, in order to set up the stable and functional IT system, IT manager has noticed growing requirement for High Availability. Therefore, High Availability of Business (Applications) and data (mission-critical data such as bank, government, R&D information) has been the demanding solutions for most of organization. A great High Availability Solution must have certain capability, that is cost-effective, high performance, easy-to-operate, liability and provides 24*7 protection to the business systems.
The Skybility High Availability Solution
  Skybility High-Availability Solution can be implemented in virtually all PC and IBM servers. It seamlessly supports mainstream operating system and variety of application for protection.
  The skybility HA software are installed in the two or more than two servers and production application will be automatically monitored, including both or more server availability and applications like Oracle, My SQL, Sybase, IBM DB2, IBM Websphere etc. It has the capability to detect failure of software and hardware of your systems. When failure happens, it can instantly do failover and recovery to prevent from system stopping caused by inevitable planned and unplanned event. Business can achieve almost 100% uptime for their critical applications with affordable cost. Based on the environment. Skybility Software provides the two choices for High Availability solutions. Skyblity HA service V1.2 is a solution in the two node for the High Availability, and Skybility HA service V2.0 is a solution in the multi-nodes for the High Availability cluster.
Skybility HA Service V1.2 in the two nodes: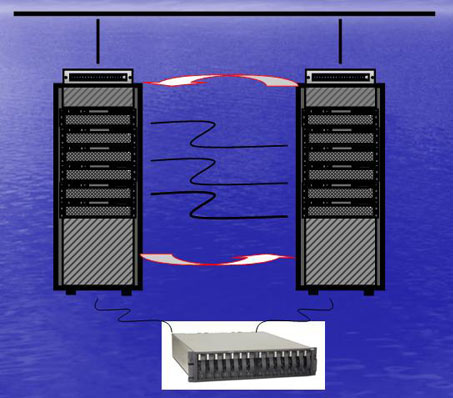 Skyblity HA Service V2.0 in the multi-nodes: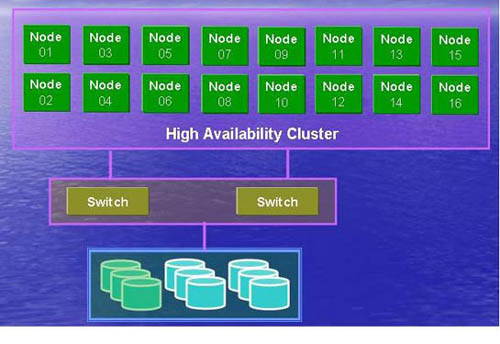 The High Availability Solution using shared storage
  The two servers are connected with shared storage directly. Operating system, Application software and Skybility HA software were installed in the two servers. The protected data such as database stored in the shared storage and the heartbeat between the two servers through private network. Any failure that causes system downtime or service interruption will trigger Skybility HA to perform error identification, fault isolation, and on-line recovery to resume interrupted services. The interrupted services will be taken over and resumed by a pre-designated backup server within minimum time frame. Users will only experience a brief and tolerable response delay or interruption. The backup server will perform the same things as Active Server such as application and TCP/IP service. Furthermore, Skybility HA will alert system administrator about the failover so he can repair the active server and perform the switch back in automatic and manual way. If not to switch back, the original active server will turn into backup server and High Availability solution continues to work.
Features:
  Hardware is independent. You can flexibly set up the system environment by different type model of server.
  Switch time is extremely short to minimize the impact of business discontinuity.
  High efficiency, by working with shared storage, Skybility HA is able to maximum the performance of monitoring critical resource.
  Support variety of applications such as Oracle, My SQL, Sybase, IBM DB2 and so on.