Introduction To Skybility HA V2.5
Introduction To Skybility HA V1.2
Skyblity cluster service 1.0



Skyblity cluster service 1.0

Skybility Cluster Service

  Build up your server platform with high performance
  Solve our currently problems
  The increasingly business requests a more functional server
  How to deal with the eliminated server is a headache question
  The migration of the business data is a waste of time

High performance server

  Skybility Cluster Service is based on SuSe Linux load balancing technology and support up to 64-bit node cluster system. It could utilize clusters composed by common PC Servers to achieve the caculation capacity of high peformance server, thereby greatly save customer¨s input on the HW.


7*24 hours work without interruption

  By using Skybility Cluster Service, customers could add new servers to the clusters at any time according to the business increase, and they do not need to stop the service or migrate the business data, therefore, the sevice could run in the 7*24 hours mode.


Protection your original invest


  You don¨t worry that your old server have no outlets. The application of Skybility Cluster Service could assign vary weighing loading to different functional servers, so that your original server could still giving play to retirees.

Data migration

  You don¨t worry about the data migration anymore. Skybility HA Service supports NFS and the latest parallel file system-Coda, Lustre and so on. You could put the application data into these file systems, and share the files among all the servers. When you add a new work server, you don¨t need to do the data migration.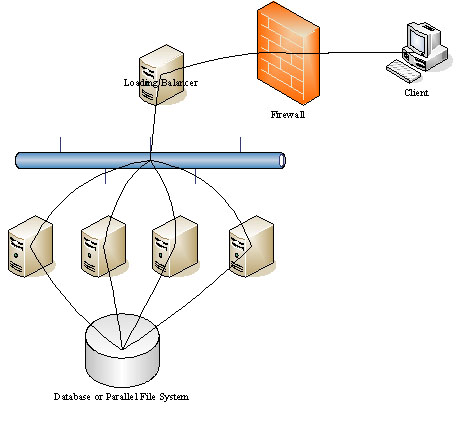 Work principle

  One Skybility Cluster service cluster includes one set of Director mainframe and serveral working mainframes. Director mainframe takes charge of transferring the customer¨s network request to the working mainframe according to the definated rules. Working mainframe is responsible for dealing with the customer¨s request and feedback the results to the customer. In every moment, only one Direct mainframe is allowed to exist, however, Direct mainframe could provide the outside service for the work mainframe at the same time.

  Skybility Cluster Service will automatically monitor each working sesrver. Once it discovers cetain work server is invalid, it will immediately delete the server from the transmitting lists; if the work server recovers , it will immediately add the server to the transmitting lists for working.

  Cooperating with Skybility HA Service, we could provide the backup server for the Director server in the cluster. If the Director server has something wrong, backup server will promptly take charge the service of Director, so that a uninterrupted service can be realized.

Configuration and application

  Using the Configuration monitor interface based on Java2, you could monitor each server¨s status among the cluster in different platforms ,even from the browsers, and dynamic adds new server or change the weighing load of the servers.