Shenzhen Skybility Technology Co.,Ltd(Referred as "Skybility") was founded in August,1996, with its registered capital of RMB 13 million Yuan and a staff number now around 150. It is a professional IT company which focuses on Linux-related hardware and software value-added products distribution, software development, system integration and IT services. Skybility strives to become the leader of providing Linux-based solutions and services in China.
  Skybility has been the business partner with the internationally renowned IT leader IBM for nearly 10 years,it has also established strategic partnership with Novell, the largest Linux company around the world. Other international partners includes Oracle, Sybase, Citrix and Wily,etc.
  As an IBM Openpower distributor and Novell Suse Linux distributor, Skybility has established a distribution channel covering the whole country, which includes both resellers and ISV partners. Also as a long-term BP of IBM high-end products, Skybility has setup a successful customer list including enterprises from finance, telecom, service providers and GMB markets. In order to serve better the both the channel and the customers, Skybility keeps expanding its own branch coverage now including Shanghai, Guangzhou, Beijing, Fuzhou, Nanjing, Chengdu, Wuhan, Xian and Shenyang;
  Skybility has been developing stably well since its founding in 1996; For the past 10 years, its revenue, net income and tax has been keeping growing. Especially after the year 2001, the revenue has increased over 50% every year. In the year 2004, Skybility achieved the total revenue about RMB 300 million Yuan(USD 34 million), which is average about RMB 2 million Yuan each employee.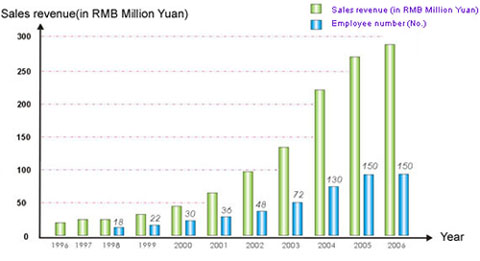 Skybility is entitled by the government with many honors, such as National Top 100 IT Company, China Excellent IT Company,Shenzhen High Technology Company,Shenzhen Pioneer Tax Payer,Shenzhen Trusted Company,Shenzhen Star Company,etc.

  Skybility has a highly capable staff team. Most of its management team have Ph.D or Master's degree. Many of them got the honor of Science and Technology Progression of province or ministry level. Sixty percent of its staff have bachelor's degree or above.Among them, 42 percent are technical persons and 29 percent are marketing and sales persons.

  Skybility develops its business in China with great support and acknowledgement from many world leading IT companies. Parts of the its partnership are as following:
  Distributor of IBM 64-bit eServer Openpower in China
  Distributor of IBM Linux software products in China
  Business Partner of IBM eServer P series and X series
  Business Partner of IBM Global Service
  Distributor of Novell in China
  Authorised Technical Support Center of Novell

  The Linux-related business of Skybility develops rapidly in recent years.Its Skybility HA Service is the only YES-certified HA software by Novell in China,and it has been registered by the China Software Registration Center. Its successful customer list includes China Post Office and China Meteorological Administration. Skybility¨s R&D team has been developing a series of Skybility Service products based on Linux, those products will serve our vast customers and ISVs better.

  Skybility insists on its strategic Linux business development with a deep understanding and active cooperation with IBM and Novell¨s global Linux strategy, and try its best to support the Linux ISVs(Independent Software Vendor)in China. In 2005, based on IBM Openpower Server and Novell Suse Linux, Skybility released the^Linux Power Stack ̄--the total solution of Porting to the Linux platform and the ^Linux Power Bottle ̄--the easy Linux application solution which were welcomed by many Linux end users and SIs. The Linux Power Stack is a strong porting and implementation tool which helps ISVs to easily port their critical applications to the Linux platform, leaving their attention focusing on developing and implementing the kernel user-level business activities. The Linux Power Combo is a toolset of easy using enterprise application solutions which Skybility provides to the various SIs and users. All of the solutions have been pre-installed on the hardware with strict testing and optimization, this kind of plug&play solutions reduce the technical difficulty for the Linux users and business partners.

  Skybility devotes ourselves to the information system implementation with ten years of SI experience. Our business covers from networking infrastructure design to total solution for the whole running IT system, such as servers and storage devices, networking implementation, secure identity management,OS、middleware and application system consulting.Our major customers include ABC,BOC,CCB and BOCC in finance industry, Huawei and ZTE among telecom manufacturers, GMCC and GD Telecom in telecom industry, Shanghai Brilliance(Group) and Vanguard(Group) in retail industry,etc.

  Skybility always treasures technology and technology management. It has already set up an advanced R&D and technical support system, with strong project management capability and rich project implementation experience. The New costly built Skybility TSC(Technical Support Center) is a specially focusing on providing professional Linux solution consulting, technical support, training and service to the nation-wide business partners and custmers. The TSC consists of the call center, technical support center, lab(testing center) and the training center. The Skybility TSC team consists of dozens of senior engineers covering Linux planning , implementation and porting projects. The professional services offered by TSC include pre-sale technical support, application testing support(on site/remote), consulting on application porting and collaboration, system installation and application deployment,training and certification on sales and products, application outsourcing and 800 hotline support.

  Skybility sticks firmly to the belief of Technical Innovation and Business Sincerity. While keeping a close eye on the trend of the IT industry, Skybility tries to optimize its resource configuration, integrate its resources along the IT ecosystem , such as set up strategic partnership with the world famous IT companies such as IBM and Novell. Meanwhile, Skybility strengthens the cooperation with domestic ISVs and SIs who has local and vertical professional background. By expanding the market share and formalizing the management, Skybility will grow continuously while keeping the competitive advantage. Skybility¨s ever-lasting and never changing pursuit is to put the technology into practice, realize its value and offer the excellent quality and service.